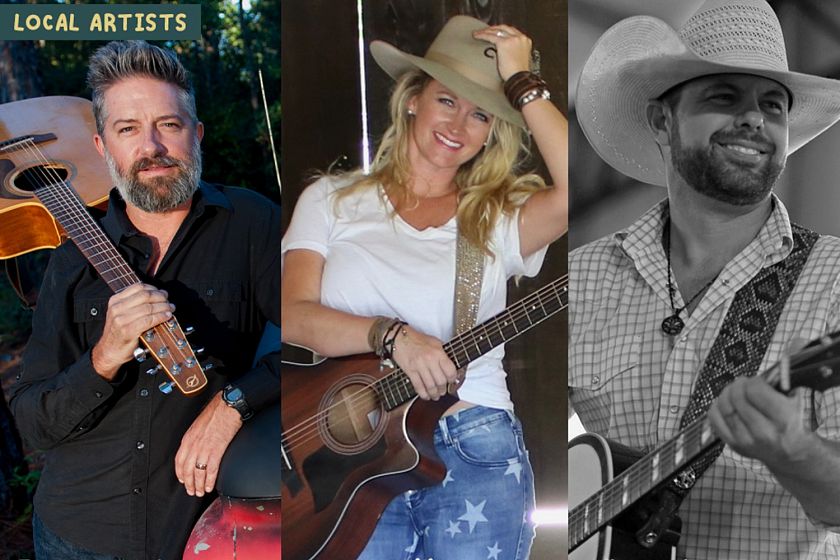 Forrest Williams · Casey Kearney · Luke Langford
Forrest Williams · Casey Kearney · Luke Langford
Three local singer/songwriters that have been influential in the Northwest Florida music scene have been invited to perform main stage at the Moon Crush Festival in Miramar Beach, FL. Forrest Williams, Casey Kearney, and Luke Langford will be one of the opening acts on the final night of the 5 day festival opening for headliner Jason Isbell. Other artists at this festival include Sheryl Crow, Need To Breathe, Grace Potter, War and Treaty and many others.
These 3 local songwriters are coming together to tell their stories of life, heartbreak, and love. You will be enthralled by Forrest, an Arkansas gentleman turned Gulf Coast musical icon. Casey a rodeo mom, songwriter and ball of energy. Luke a Florida farm boy turned rock star. Their friendship, respect, and talent will be exuding as they come together on stage representing some of the amazing talent on the Emerald Coast.
All 3 artists have original music available on streaming outlets everywhere. Check out their social medias for show calendars and more information. @forrestwilliamsband // @caseykearneymusic // @lukelangfordband
Luke Langford
Luke Langford is a musician/songwriter from the Florida Panhandle. Raised in a farming family with a musical streak Luke continues that tradition still, running the family farm by day and playing with his band at night. The Luke Langford Band has been playing the area since 2016, their sound is influenced by classic country and Texas/Red Dirt music, they have two singles available on iTunes/Spotify and expect to release their first EP fall 2021.
Casey Kearney
Casey Kearney is a fresh take on the country music scene. Her personal songs effortlessly convey both the sweetness of a Southern belle and the steel backbone of a strong country woman with a little touch of rock and grit. Her music ranges from slow heartfelt ballads to upbeat crowd favorites and playful melodies. Her sound is a great representation of vibrant women everywhere. Born and raised in the Florida panhandle, Casey still resides in the small town of Holt with her husband and 3 children who are active in the Jr. Rodeo circuit. Casey has released multiple original music projects she recorded in Nashville. Several songs have received national radio play and industry attention.
Forrest Williams
Growing up in the hills of Arkansas, Forrest picked up the guitar when he was 14 years old and has been playing ever since. He grew up listening to Rock, Blues, Country, and Folk music from the 60's up to present day, which has influenced his songwriting. His style covers a variety of music, incorporating the acoustic guitar, electric guitar and the harmonica.
Now living on the Gulf Coast for the last 15 years, the culture & the nature of the area have helped shaped his playing and writing style as well.
Forrest ~ released his third all Original studio album "Monday To A Saturday" in May of 2019. He has two more all Original CD's "Gonna Take Love & his self-titled album.
Forrest Williams · Casey Kearney · Luke Langford

5:00 PM - 6:00 PM